The Commonwealth Of New Bayswater
With Rohin Kickett and Jacob Diamond


The Commonwealth of New Bayswater established and opened its borders for the duration of the 2021 Fremantle Biennale.

The small and ephemeral nation, a collection of territories including a cultural capital in the east (The Inverted Museum of History) to the industrial heartland in the west (the state-run Public Works and Embassy), and its commercial centre (in the centre), offered single entry tourist visas to travelers from all over the world. This was an unmissable exclusive opportunity to experience all this quasi-functional state had to offer, from live performances by international acts, culture, public toilets, a Motor Inn, views of bridges and carparks, free potable water and more. The Commonwealth of New Bayswater remains one of the world's most accessible tourist destinations!

For more information wikitravel.newbayswater.com

The Downtown Music Program included performances by: Akioka, Bad Whippp, Cooper Cooper, DJ Hame, DJ Sepsaay, DJ Willy Slade, Dear Sealed Section, Gia Como, Grace Sanders, Haircare, Heathcote Blue, HeebeeGBCbees, Jacob Diamond, Jxnior Moyo, Lia T, Luka Buchanan, Montana, Mothswatter, New Nausea, Nika Mo, Nina BC, Nora Zion, Pip Who, Rare Faction, Rok Riley, Russell Holmes, Seacrest Gardens, Stella Donnelly, The Commonwealth of New Bayswater National Choir, Toby Diamond, XO GS.

Presented for CROSSING 2021.

All Pictures by Duncan Wright


Inverted Museum Of History
Inverted Museum Of History
Inverted Museum Of HistoryInverted Museum Of History
Inverted Museum Of History
Flora of the anthropocene: an incomplete catalogue of often overlooked objects relating to public utility
A catalogue about the material benefits derived from the coagulation of humans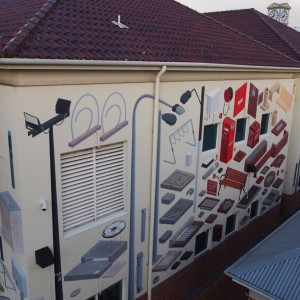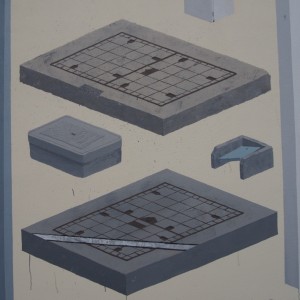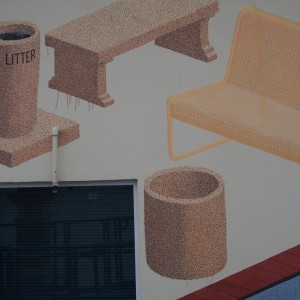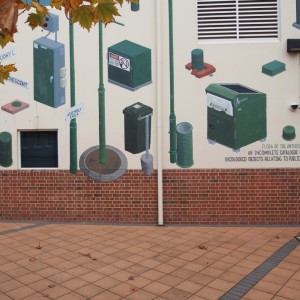 South Mole Resort
"When You shine this bright, you only need one star!"
Installation for Fremantle Biennale 2019
https://semaphoreart.net/Annihilation-then-Vacation
https://player.vimeo.com/video/367445353

I Feel Fine
I made a set for a play written and directed by Zachary Sheridan, who also took this photos.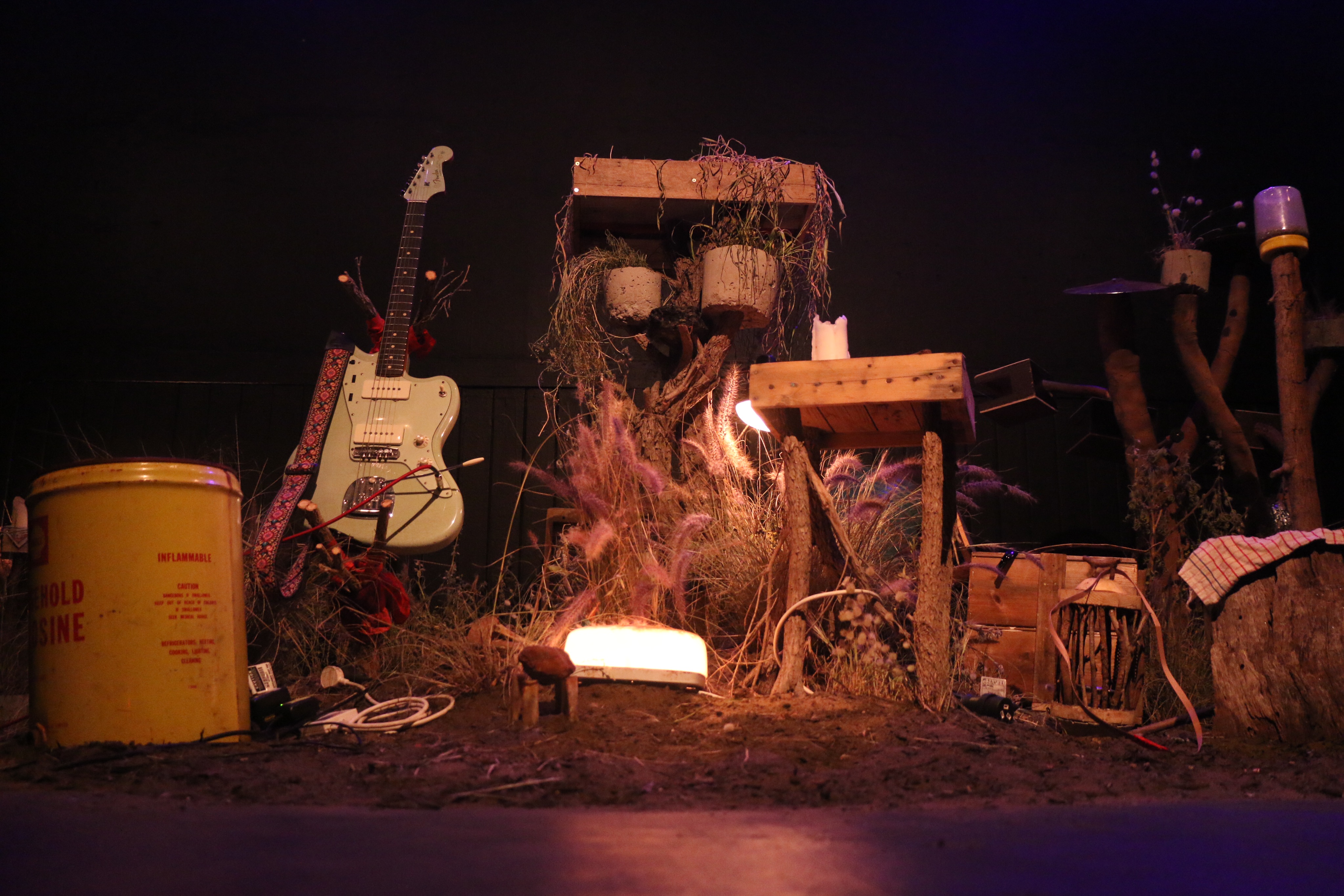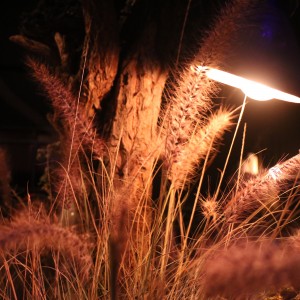 Post CIOMA
In the year 2020, Western Australia will secede from the Commonwealth and become the Republic of Westralia.At which point it will promptly collapse under the weight of overwhelming incompetence and grift.

In early 2020 CIOMA (2020) will be built. Utilising an exploit in the algorithm that runs the Department of Burnouts and Jetskis (and the arts), Jessee Lee Johns (2020) secures all W$200.42 of the last round of funding before the Westralian government slides into complete disfunction. He builds the gallery in a former industrial area on the southern coast of Perth, completing it just prior to being summoned back to the present. In the following weeks he will build a residence and begin a residency program free of the usual perks, in which he intends to live out his days running the sole surviving western arts institution, plying his trade for a dwindling and increasingly disinterested patronage.

From may 21st until June 22nd 2018, CIOMA (2020) will be manifest within PSAS. So come down, witness the future, and learn about the cultural wasteland that will be post collapse Westralia...


Supported by DLGSC and the City Of Fremantle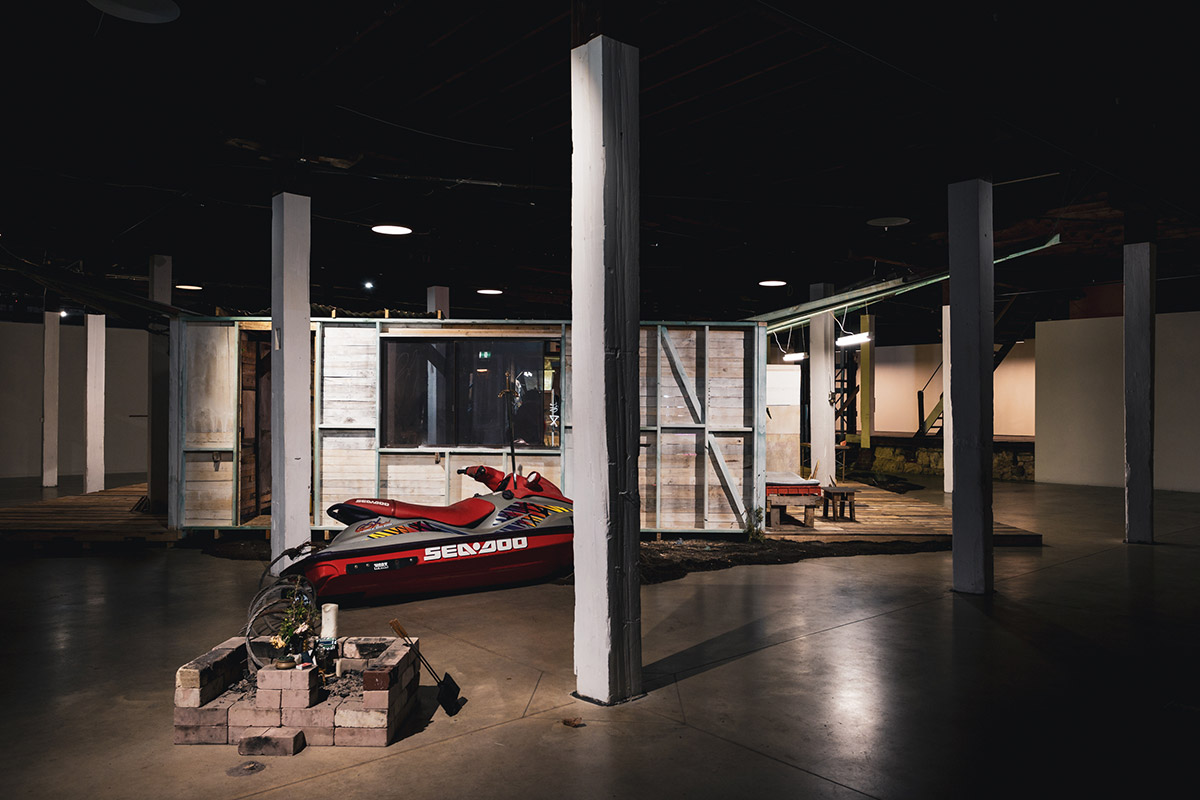 CIOMA: Cambodia
I was invited to take part of a mural festival in Cambodia. It took place in an old factory. I built this gallery on top of a disused water tower in the factory.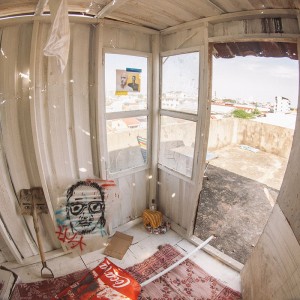 The Embassy Of The Commonwealth Of New Bayswater
The Embassy Of The Commonwealth Of New Bayswater was part of the inaugural Fremantle Biennale.

In a flooded basement under Fremantle, the embassy was open to the public, and for those interested, it was possible to apply for a visa, or even citizenship, to visit the mysterious nation of New Bayswater.

After receiving a number of applications the populace became enraged, and under a wave of isolationist sentiment, the visa and citizenship programs were abruptly terminated.

https://www.shimajournal.org/issues/v12n1/n.-Hayward-Shima-v12n1.pdf

Precision Shonk
Portrait of a Light Industrial Landscape
Wollongong
Here's the wall I painted in Wollongong for Wonderwalls Festival.

It's called "Warehouse in ageing light industrial zone whose owners superanuation was lost in a fraudulent investment scheme mismanaged by a master of Australian business shonk and who now have to work an unreasonable number of years past retirement in a business struggling to find relevance in a rapidly changing economic environment".


CIOMA @ Pet Projects
I started a gallery called CIOMA in a popular fly dumping spot, someone moved in, then it was demolished. I reclaimed what I could and re-built at Pet Projects in Bayswater.

We had a show there featuring Dan Bourke, Gemma Weston and Andrew Varano.

www.cioma.com.au
Checks Cashed
Painted this mural in Detroit. It was crazy to be in a city that so strongly resembles many of my recent paintings.
The guy who lived here had some very big dogs, which he had to prevent people from coming into his warehouse.
As I was leaving, the dogs came out into the yard, the largest one went straight over to the fire hydrant I had just painted and urinated on it.
Now I have steady stream of requests to paint objects for dogs to piss on.



Wide Open Road
The toilets really are next to the vending machines.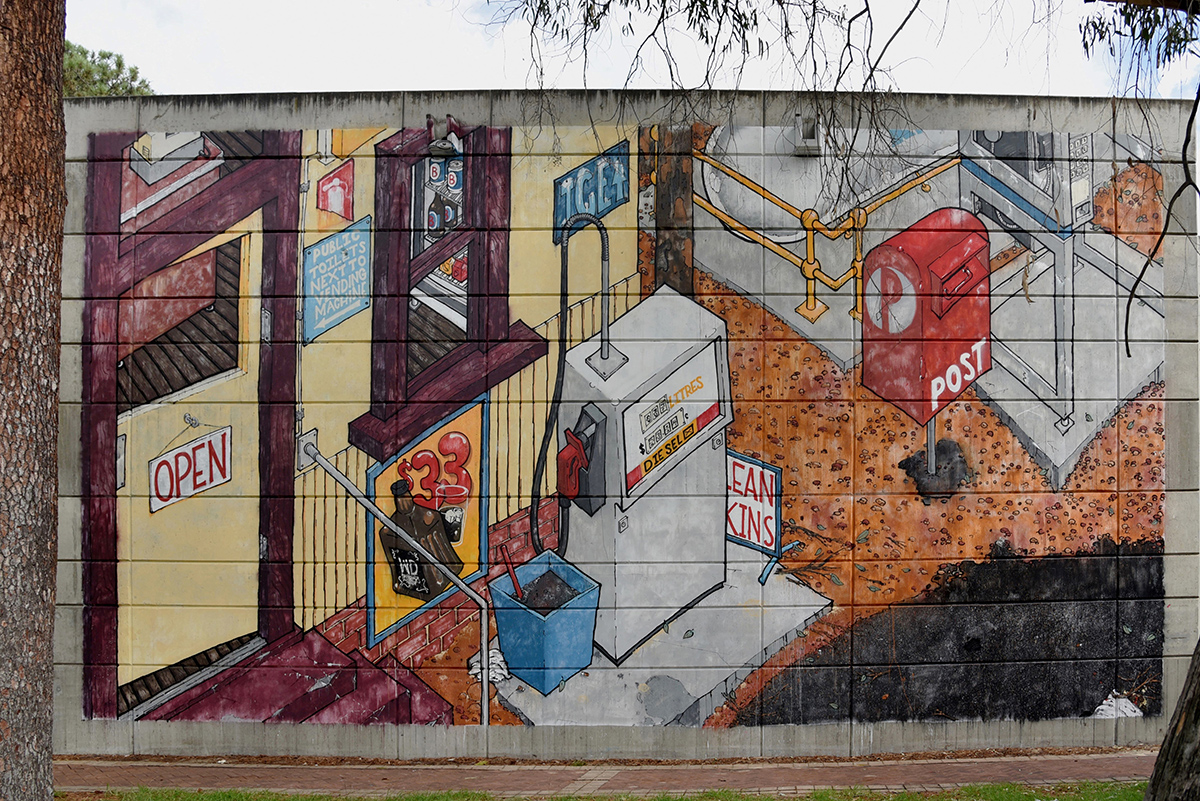 The Ballad Of Gary Hayes
In 1993 Gary Hayes stole a tank and drove around Perth, smashing police cars and gates to government buildings and such. It seems he'd had a bit of a history with the police and the mental health system. I couldn't find out what happened to him, I guess he's in prison or a hospital.

I remember seeing it on the news, and thinking it was incredible, something straight out of an action movie. But the sad truth is, these things are usually done by people who for one reason or another are at odds with the world they live in. And I always find it heartbreaking that we don't seem to know how to deal with them.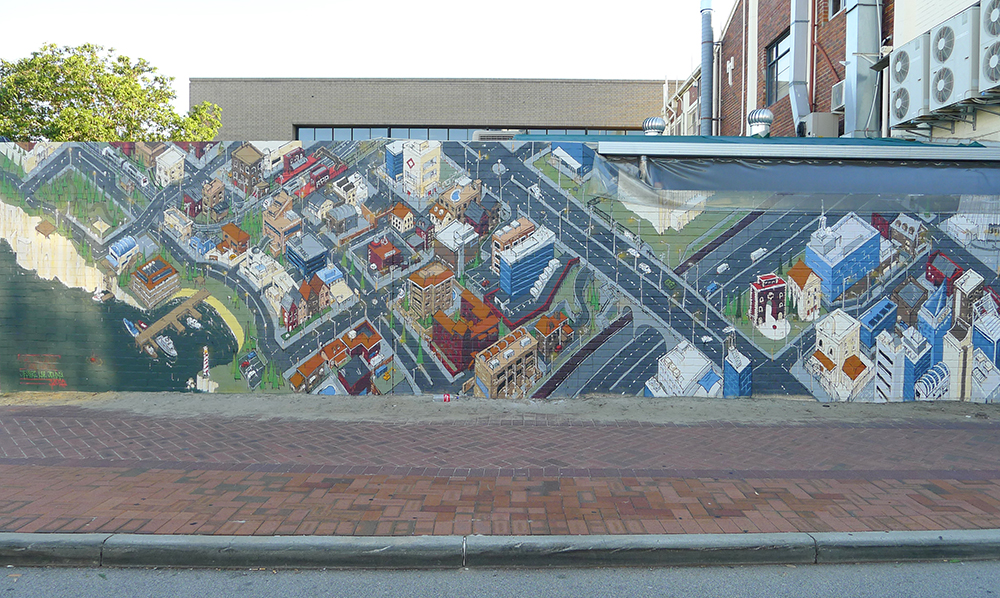 Moon Technology
Everything would be better if we had more moon technology. Though it would inevitably be withheld from certain people. It is true that if you can't afford something, you can not use it responsibly. It's why people who can't afford money get a card that allows them to sort of have money.
Contemporary Institute Of Modern Art
CIOMA is one of the worlds leading cultural institutions, I have been lucky enough to be involved from the start.
Check out their website for more info.

http://www.cioma.com.au/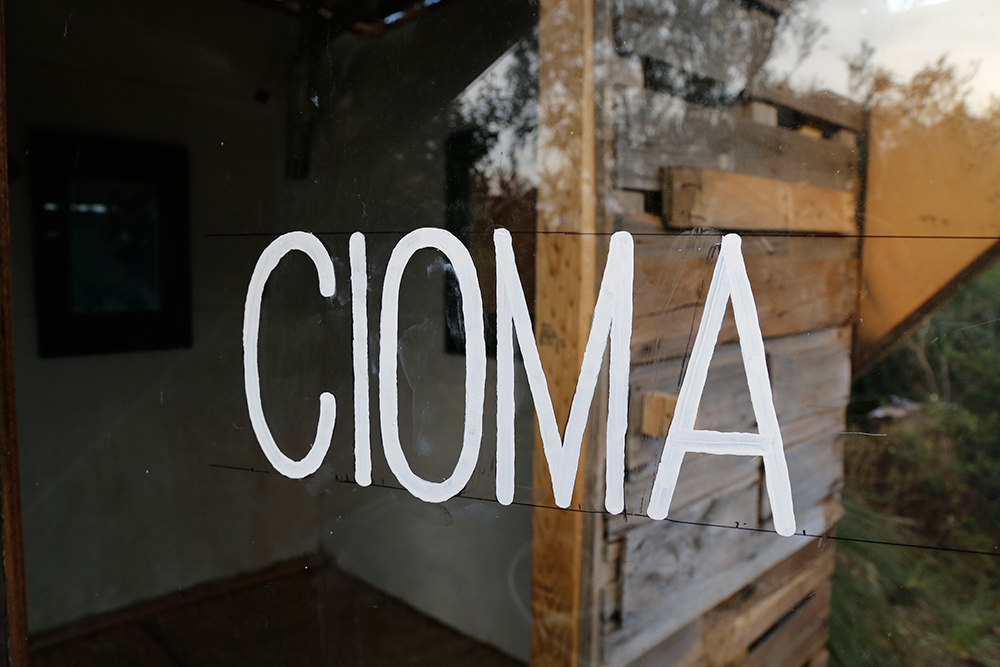 Front door at CIOMA. Photo Jay Doubleyou
Rear deck at CIOMA. Photo Jay Doubleyou
Front view in the day at CIOMA. Photo Jay Doubleyou
Front view at night... Photo Jay Doubleyou
Contemporary Images Of Modern Art
Here are a few paintings from a show I had in April 2016. It was called Contemporary Images of Modern Art, a title derived from the institution I created called the Contemporary Institute of Modern Art.

Stay Out, 2016 Roughly A3 Paint on paper
Gents, 2016 Roughly A3 Paint on paper
Access, 2016 Roughly A2 Paint on paper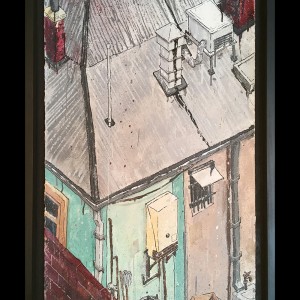 Change Of Use, 2016 Roughly A2 Paint on paper
Trickle Down
In this classic neo-con ponzi scheme, resources rise, shit trickles down.
Sovereign Borders
I'm sure this painting freed a refugee.
Panopticon
The infamous prison is here realised as the surveillance state.

Dance like no. one is watching.